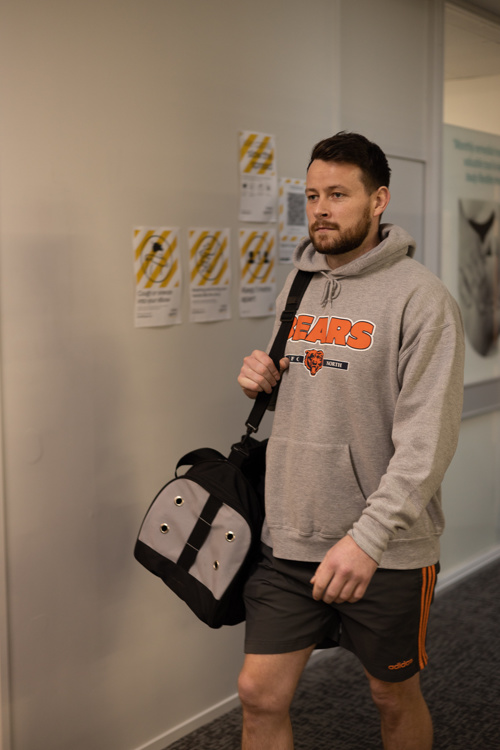 Bryce Hosie
27/01/2022
Why did you join the Body Synergy Team?
I Joined the Team at Body Synergy after spending years in other gyms lifting with no real direction or intent. This led to my body suffering a lot before my back gave out. I had known Ricky for years, and he had a chat with me about my back injury and other niggles I had going on at the time (repeated hamstring strains). The first day I showed up at Body synergy gym, I could barely walk, I couldn't go to work, and I was in severe pain. Thanks to Ricky, Rowan and the team at Body Synergy's excellent set-up, they were able to assess quickly and figure out what was going wrong for me and then put a plan in place moving forward. I was hooked up to the EMG machine to figure out what was going wrong with my lower back and make sure all muscles were firing as they should be, and within the first two sessions, we had a clear direction to sort out the back pain. Since then, I have never looked back, my back pain is non-existent, and my hamstring strains are gone too. I can't thank Ricky, Rowan and the team enough for every session's ongoing support.
What do you enjoy about Body Synergy?
There is a lot to enjoy about Body Synergy. As soon as you walk through the door, the staff are always looking out and greeting you. The staff are incredibly welcoming and friendly. The facility itself is kitted out with top of the line gear, which meets all of my training needs. While training, there is always members of the Body Synergy team on the floor helping out with technique tips, encouragement and helping me through every workout. Another thing I like about Body Synergy is you can do the Daily workouts (WODS), or you can choose to do an individual program that is provided for you and tailored to your goals. The wods make it easy to show up and get a workout in without having to think about what I am going to train or do while I'm there.
What results have you achieved while at Body Synergy?
My main goal was to get back to work, sport and living a healthy balanced lifestyle, and I feel like I have achieved that. With the team's help at Body Synergy, I am now living pain-free, an ability to get on with life and enjoy it.
What are the benefits of Body Synergy to you?
The community that comes with being part of the body synergy gym. No egos - everyone is polite, respectful, and only want the best for each other both inside the gym and out. The team at Body Synergy take a genuine interest in how everyone is doing outside of the gym, and that comes from an authentic place of care.
What would you tell someone looking to join Body Synergy?
Just come along and try it out. There is something for everyone at Body Synergy; no matter what stage of training, from a beginner to the professional athlete, I have seen them all come through the synergy doors. You won't find another gym with this type of commitment and dedication to its members.
Is there anything else you'd like to add?
I want to thank all the legends that work at the gym. I appreciate all of the time and effort you put into me and the other members on a day to day basis to make our gym experience an enjoyable and rewarding one. I also like to acknowledge all of the members at the gym - you all help make the Synergy experience what it is, so Thank you. See you at the gym
View all Testimonials