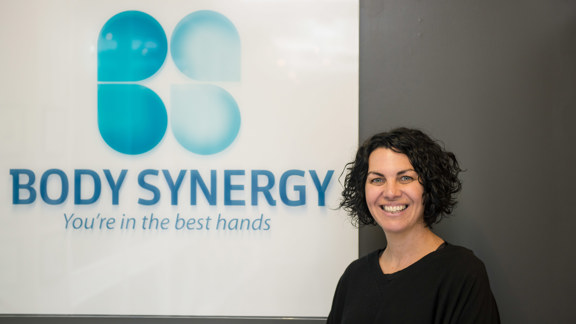 Kylie Ellis
Company Director, Massage Therapist, Synergy Spin Instructor.
Qualifications & Work Experience:
Bachelor of Applied Management (Business Transformation and Change) Company Director Body Synergy Ltd, 10 years as a practising Massage Therapist. Worked on the Research, Development and Implementation with Rowan and Dr Peter Taylor of the REM (Rowan Ellis Method) Synergy Spin Instructor for over 5 years "Creative Change Manager"
We passionately believe in what we do, what we deliver, and the team we have put together - resulting in a "One-stop Shop" business. We are innovators within the back pain industry and are 100% customer focused.
My greatest achievement to date:
Our boys Jonty & Toby & together Rowan and I have built a business that provides people with a pain-free life, a place they are comfortable, valued and successful at recreating a body that will be "fit for a life worth living".
It's just really fascinating work. The human body offers so much - it allows us to continually push boundaries, evolve our systems and brings us some fairly amazing clients to work with - not-to-mention the stellar team we have.
Talk to me if you want...
A major change in your life you need to come to a place which specializes in what they do. We are totally unique in what we can provide, Rowan and I will continue to push the boundaries in this industry and commit to always being customer-driven.
Favourite Quote:
"Leadership begins not with what you do, but who you are". Jim Collins – "Good to Great"
View all Team Members