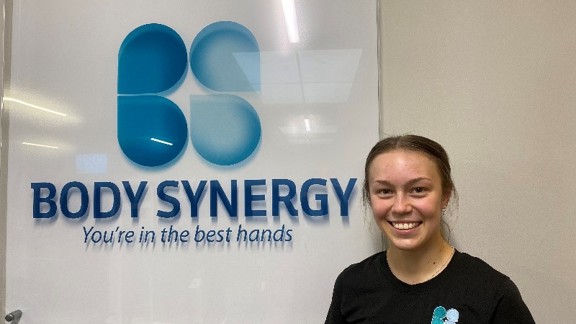 Grace Brenssell
Gym Instructor
What does my role entail?
My role consists of helping people in the gym with both the rehab and the day's workouts.
About me in 60 seconds?
I am a happy and bubbly person who loves to keep active. I came to Body Synergy because I had been suffering from headaches which affected my everyday life. By using their EMG technology and doing rehab work, I relaxed my hyperactive upper traps. After a couple of weeks, the headaches disappeared altogether. Now I am living every day headache-free, which is life-changing! I am currently studying for my Bachelor of Applied Science.
My favourite thing about Body Synergy?
My favourite thing about Body Synergy is the warm, welcome and friendly community while focusing on getting to know every individual and helping them towards their goals.
My most outstanding achievement to date?
To date, my most outstanding achievement is being a successful competitive gymnast, medalling at the New Zealand Gymnastics Nationals and placing first at Aerobics Nationals.
View all Team Members