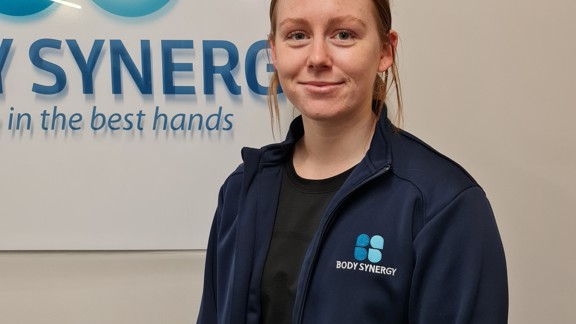 Abbey Johnston
Remedial massage therapist/rehabilitative trainer.
What does my role entail?
Providing physical therapy to clients with a combination of hands-on massage treatment and EMG assessment to put together a robust treatment plan that is tailored to the specific needs of the person.
 Qualifications & Work Experience:
Bachelor of Applied Science in Exercise and Health from Otago Polytechnic. Joined the Body Synergy team in September 2019 under Rowan Ellis' tutelage.
 About me in 60 seconds:
I've always wanted to work in physical rehabilitation for people recovering from injury or dealing with chronic pain related to musculoskeletal conditions. I enjoy meeting new people through my work and seeing their recovery.
Overcoming my own past injury challenges gave me the incentive to find a better way to treat pain and manage physical recovery.
I love getting people's belief up, that moment when they realise they can do more than they thought they could.
 The greatest thing about working at Body Synergy Gym:
Actually making a difference. The combination of training under Rowan's signature treatment philosophy and the ability to pinpoint the root of people's pain accurately using the EMG technology has been truly eye-opening. Rowan sets the bar high, and his confidence in our ability to provide lifestyle-changing treatments is inspiring.
 My greatest achievement to date:
Completing my degree in Applied Science. Being part of the EMG treatment pilot programme – this will be a game-changer for the industry, and I feel privileged to be part of it.
Favourite Quote:
Every day may not be good, but there's something good in every day.
View all Team Members